WATCHA CLAN
New album RADIO BABEL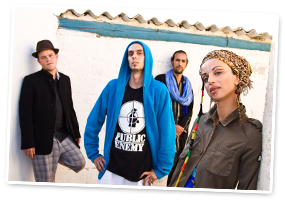 Tear down the wall ! Watcha Clan jumps the barricade with its lastest album, Radio Babel.
The biblical city of Babel and its infamous tower have received bad press over the centuries. Imagined as a looming structure built by children in which all residents spoke the same language, the omnipresent God decided to trick humans in order to make them scatter - the word Babel is derived from the Hebrew balal, to "jumble." Yet if we consider the tower as a prototype radio transmitter, as Marseille, France-based Watcha Clan does on its latest album, the sound of one world singing and dancing together makes perfect sense.
Watcha Clan has always exhibited a visionary spiritual eclecticism in its sound, stretching from Gnawa trance and drum n bass to hip-hop, Balkan brass and Sephardic folk, with thriving bass-heavy pulsations countered by Sista K's show-stopping vocals.
"Diaspora Hi-Fi was more a travel through my background and roots," she says. "Now my obsession is 'the wall', both concrete and abstract."
Radio Babel is predominantly concerned with destroying boundaries everywhere. The first video, a mini-documentary focused on Mexican-American border issues, is set to the breakthrough song "We Are One," and features interviews with migrant workers and farmers.
Whatever sound these nomadic souls travel through, you can be certain that Watcha Clan will accomplish what great artists do: highlight the similarities between cultures through music, instead of complaining about the differences. To hear the sound of one world united by music, join the movement on Radio Babel.
Derek Beres (NYC)
Words – Beats – Postures